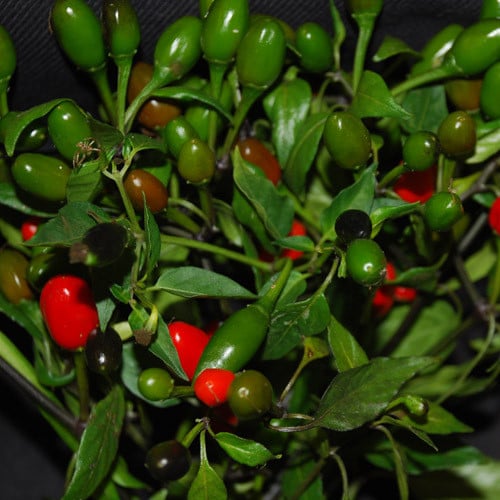 CHILTEPIN
Description
One of the world's hottest peppers, this one must be eaten or even handled with care, measuring from 50,000 to 250,000 on the Scoville scale. Whilst the heat is intense, it is not very enduring, and referring to this, in Mexico, the heat of the Chiltepin is called arrebatado meaning rapid or violent. As it ripens it progresses from green through black, and finally to red, and is sometimes called the "mother of all peppers" because it is believed to be the oldest form of Capsicum annuum.
Sowing Advice
Surface-sow or barely cover the seeds indoors, and keep warm and moist. When sprouts appear move them to a sunny window. Set out well-developed transplants after last frost date when weather is warm. Peppers need rich moist soil and warm sunny conditions to flourish. Best sown in early spring.
Key Facts
Common name:chiltepin, chiltepe, chile tepin, turkey, bird's eye.
Packet Content:15 (Approx)