COVID-19 UPDATE
Our website is currently OPEN and accepting orders.
Thank you for your understanding in these difficult times.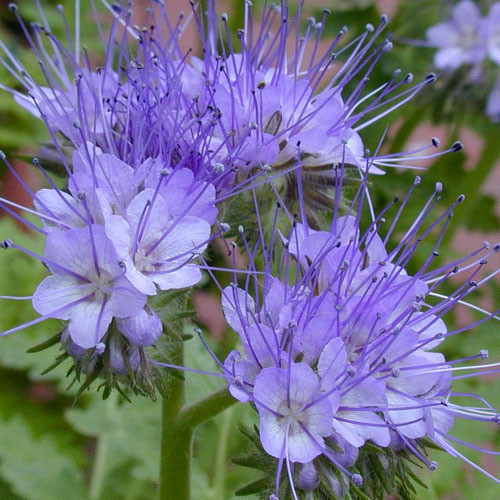 PHACELIA TANACETIFOLIA
Description
This easy-to-grow, hairy annual has finely-cut, ferny leaves, which may turn red in hot weather, and very dense, curved spikes of small, soft lavender, bell-shaped flowers, with very long stamens, in a curved raceme, like the flowers of "forget-me-nots", which are enjoyed by hover flies, butterflies and bees. This is a more elegant plant than the commoner Phacelia campanularia, with stems which are rough and slightly hairy.
Sowing Advice
For best results, seeds are sown directly into the ground where required in the spring. Alternatively, sow in late winter/early spring in gentle warmth, 15-20 degrees C. Prick out into small 3 inch or 7 cm. pots and plant in final position when the plants are established.
Key Facts
Family:Hydrophyllaceae (or Boraginaceae by some authoriti
Common name:Fiddle Neck. Lacy phacelia. Scorpion weed. Purple Tansy
Classification:Hardy annual