COVID-19 UPDATE
Our website is currently OPEN and accepting orders.
Thank you for your understanding in these difficult times.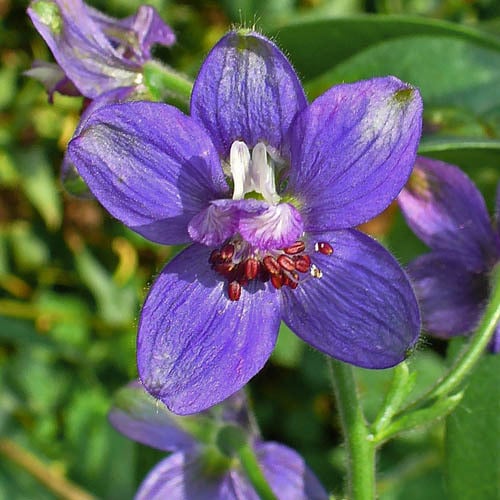 DELPHINIUM STAPHISAGRIA
Description
MUCH LARGER SEED THAN REQUIENII The flowers are mauve-blue to blue, short-spurred, and up to 1 inch (2.5 cm) across. It grows throughout the Mediterranean The use of herbal preparations made from D. staphisagria seeds for destroying body-lice has been recognized since antiquity. The plant name refers to the resemblance of the leaves to a grape or 'wild raisin' It is interesting that even under bad conditions, seeds have their characteristically large size. The thick-skinned inflated seed pods contain just two or three seeds. The average size for the long axis of 32 seeds was 6.2 mm and the average width across the seeds was 5.2 mm. The seeds are angular with flat facets and a rough, ridged dark brown skin. The seed yield from this species is consequently much smaller than from D. requienii, which produces 35+ smaller seeds per floret. The plants die once the seed has ripened.
Sowing Advice
For best results, seeds are sown directly into the ground where required in the spring. Alternatively, sow in late winter/early spring in gentle warmth, 15-20 degrees C. Prick out into small 3 inch or 7 cm. pots and plant in final position when the plants are established.
Key Facts
Common name:Lice-Bane, Stavesacre, Larkspur
Classification:Hardy biennial
Packet Content:15 (Approx)