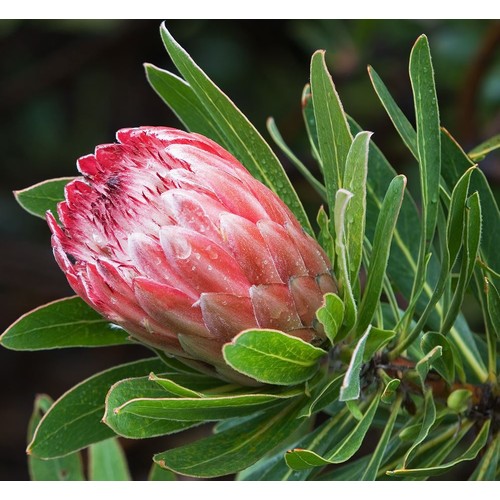 PROTEA REPENS
Description
The large deep red flowers of this sturdy, densely shrubby Protea are an excellent addition to any "wild-life" garden, as the large amount of nectar produced attracts birds, bees and other insects. The latin name "repens" is wrong and was caused by a mix-up in ancient times. The botanist Thunberg later named the same plant Protea mellifera, referring to the sweet nectar produced by the flowers. However, this later correct name was not valid so so this upright shrub is now called Protea repens! Proteas require extremely well drained soil which is both acidic and very low in nutrients, fertiliser containing excess phosphates or nitrates may kill them! Proteas should not be fed with standard liquid feeds. Protea feed is available from specialist stockists. As a rule proteas prefer full sun on a south facing slope in an open unshaded position.
Sowing Advice
Seeds germinate best at around 12C. Proteas thrive in low nutrient soil consisting of 2 parts coarse sand and 2 parts peat and, if available, with added rotted and decomposed leaves. They do not thrive in any medium with high levels of phosphates. HINT: Smoke can stimulate germination. Screw up a page of newspaper, then set it alight outside. Beat it out when half burned away. Shake off the burned portions and mix into the compost.
Key Facts
Common name:Common Sugarbush, Suikerbos.
Classification:Half hardy shrub, Half hardy perennial
Packet Content:4 (Approx)