COVID-19 UPDATE
Our website is currently OPEN and accepting orders.
Thank you for your understanding in these difficult times.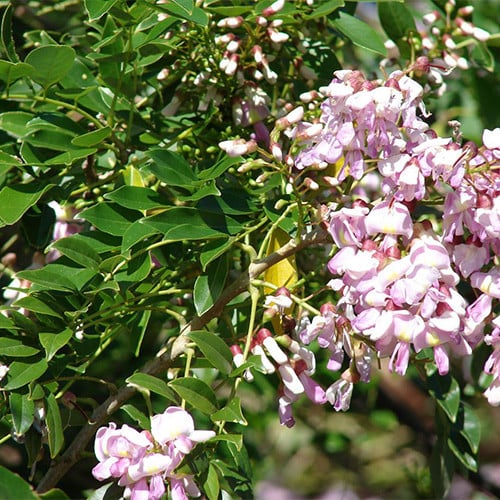 GLIRICIDIA SEPIUM
Description
This medium-sized shrub or small tree produces a generous quantity of flowers, its arching branches often being weighed down by the densely packed racemes of fragrant, nectar-rich pink blossoms. With a medium-sized, open crown it is particularly valued for its use as a shade and support tree, as a producer of green manure and forage crop in plantations, and when cropped down is even established as living fences. It is deciduous, but may be evergreen and flower sporadically through the year in areas with rain all year round. A very valuable multipurpose tree and important component of various agroforestry systems, it is often cultivated in many tropical countries of Central and South America, S and SE Asia, the Pacific islands and Africa where it serves as a pioneer species to establish new sites.
Sowing Advice
These seeds have already been thoroughly cleaned and should be sown into a well-drained, sandy compost at any time of the year, and covered thinly with sand or grit and kept moist. Keep at between 20-25 degrees C. Seeds sometimes germinate within 4 to 6 weeks although some may take very much longer so please be patient. Plant out in the open ground in warmer countries or in a large container elsewhere.
Key Facts
Common name:gliricidia, Nicaraguan cocoa shade, quick-stick, cacahuananche, madre de cacao, mother of cocoa, madriado, madricacao, mata ratÓn, mataratÓn, madera negro
Classification:Greenhouse perennial
Packet Content:10 (Approx)