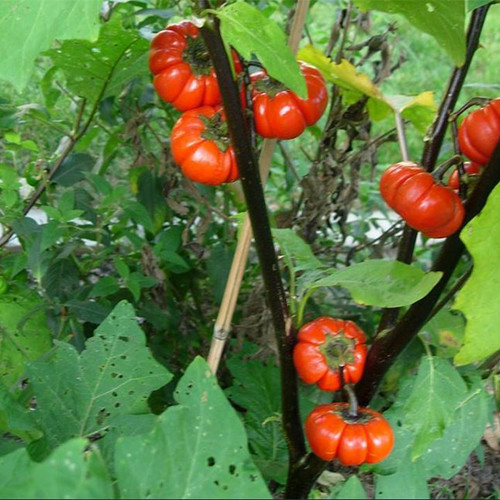 SOLANUM AETHIOPICUM "BLACK STEM"
Description
Rare in cultivation, this black-stemmed relative of the aubergine produces edible fruit which can be consumed when completely ripe, although they are usually prepared green. Easy to grow, it can produce high fruit yields. The leaves of Solanum aethiopicum are often eaten as a leaf vegetable and are said to be more nutritious than the fruit. Fruits of this variety are about two inches in diameter and turn bright orange-red when ripe, although they are usually eaten when still green. When fully ripe the sweet taste is often used in Thai curry. It can produce fruit within just 75 days after planting. PLEASE NOTE! We sell this seed only for use as an ornamental plant.
Sowing Advice
These seeds have already been thoroughly cleaned and should be sown into a well-drained, sandy compost at any time of the year, and covered thinly with sand or grit and kept moist. Keep at between 20-25 degrees C. Seeds sometimes germinate within 4 to 6 weeks although some may take very much longer so please be patient. Plant out in the open ground in warmer countries or in a large container elsewhere.
Key Facts
Common name:Solanum melongena, Stiped Toga, Solanum melongena Thai Yellow, African Eggplant, "Scarlet Aubergine", " Ethiopian Aubergine" or "Gijo", Mock Tomato, Garden Eggs,
Classification:Greenhouse perennial