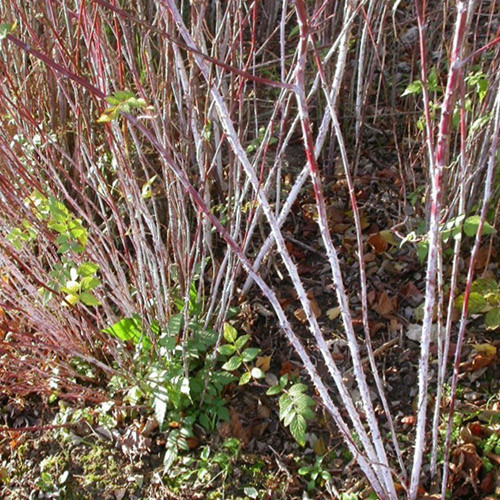 RUBUS COCKBURNIANUS
Description
Clusters of white flowers later become sweet blackberries. But during the growing season, the arching canes look just like any other member of this family, but the real show starts when the leaves fall and the cranberry coloured stems become covered in white powder and glow with a ghostly silver (with the slightest hint of pink from the red stems underneath). This display is truly dramatic with a dark backdrop! They do well if cut to the ground each spring to keep them to a manageable size, and will grow in almost any position. But do plant them where they can be admired in the winter! In England this plant was crossed with Rubus occidentalis to produce vigorous hybrids with more flowers, greater fruit production,and resistance to viruses!
Sowing Advice
These seeds have already been thoroughly cleaned and cold-stored for several months. They should be sown into well-drained, sandy compost at any time of the year, and covered to their own depth with sand or grit. No artificial heat is needed; the seed tray is best left in a cool spot outside and kept moist. Seeds usually germinate in the spring after a chilling in the cold compost, regardless of when they are sown.
Key Facts
Common name:Rubus giraldianus, "Ghost Bramble" White-Stemmed Bramble.
Classification:Hardy shrub