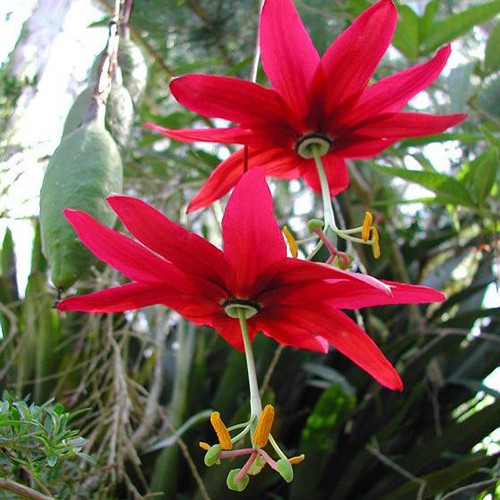 PASSIFLORA ANTIOQUIENSIS
Description
One of the world's rarest and most spectacular Passion flowers, dazzling red blossoms with darker eyes, hang down on long peduncles, along its entire length before producing unique seed pods. A superb ornamental plant, it grows in highland regions in western part of South America, where it makes a climbing shrub with shoots growing up to 5m tall and in the wild it is often hummingbird pollinated. The edible, yellow ellipsoidal fruit has a sweet flavour, and it may be eaten raw or made into drinks. In cooler countries it should be grown either in a large pot or a very sheltered position outside.
Sowing Advice
These seeds have already been thoroughly cleaned and should be sown into a well-drained, sandy compost at any time of the year, and covered thinly with sand or grit and kept moist. Keep at between 20-25 degrees C. Seeds sometimes germinate within 4 to 6 weeks although some varieties may take very much longer so please be patient. Plant out with climbing support in the open ground in warmer countries or in a large container elsewhere.
Key Facts
Common name:Passiflora vanvolxemii, Red Banana Passionflower.
Classification:Half hardy climber
Packet Content:10 (Approx)