WEBSITE UPDATE
Our website is currently OPEN and accepting orders for delivery to the UNITED KINGDOM only.
Sorry for any inconvenience and we hope to re-open the website for GLOBAL delivery very soon.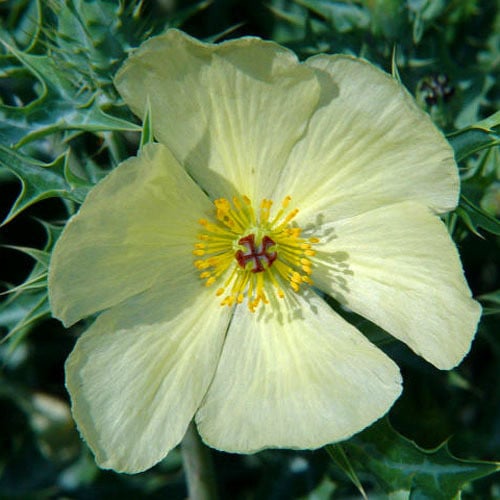 ARGEMONE OCHROLEUCA
Description
Leafy stems grow most attractively variegated, prickly lobed leaves. The large, showy flowers can vary from pale peach to yellow, and have a dark red 3 to 6 lobed stigma. Coming from Mexico, this lovely annual flower can survive, and indeed thrive, in the hottest conditions.
Sowing Advice
For best results, seeds are best sown directly into the ground where required in the late spring. Alternatively, sow in late winter/early spring in gentle warmth, 15-20 degrees C. Prick out into small 3" pots and plant in final position when the plants are established. Does best in a hot dry spot!
Key Facts
Common name:Mexican Poppy, Devil's Fig, Golden Thistle of Peru, Biniguy Thistle, Mexican Prickle Poppy
Classification:Half hardy annual
Seeds / gram:350 (Approx)