WEBSITE UPDATE
Our website is currently OPEN and accepting orders for delivery to the UNITED KINGDOM only.
Sorry for any inconvenience and we hope to re-open the website for GLOBAL delivery very soon.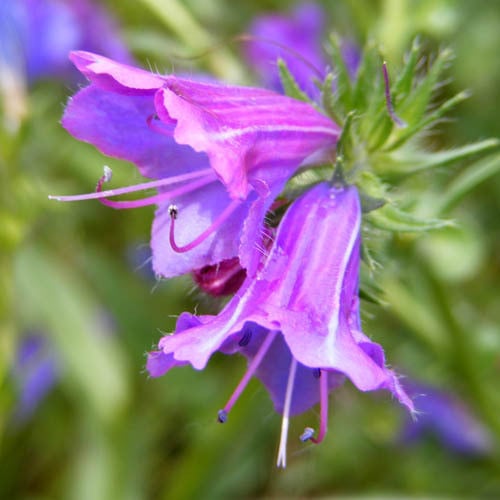 ECHIUM PLANTAGINEUM
Description
Flowers opening a bright pink, slowly becoming more blue with age, stud the hairy, bristly stems, which arise from a compact overwintering rosette in earliest spring. This plant makes a tidy but sprawling mound that is best grown hard on a dry bank, or in sand, where it will produce a maximum amount of flower. It is native to western and southern Europe and is quite rare in the UK.
Sowing Advice
Seeds are best sown in spring or before mid summer to enable a full season of growth and are best sown where actually needed, preferably in a well-drained and sheltered spot. Otherwise, sow seeds, covering very thinly, in early spring onto a good soil-based compost in a frost-free place. No artificial heat is needed to help germinate these seeds, just a cool, varying, background temperature, in good light. Seedlings usually appear in 2 to 3 weeks. Pot on into a gritty compost containing very little organic material before planting out as small plants in a well-drained sheltered spot, or a large container that may be taken in during the winter in severe frost. Plants usually flower 24 months after sowing and can occasionally vary in habit and flower colour as we have numerous species growing here, and very many busy bees....
Key Facts
Common name:Echium lycopsis. Purple Viper's Bugloss, Salvation Jane, Blueweed, Lady Campbell Weed, Riverina Blu
Classification:Hardy perennial
Seeds / gram:200 (Approx)