WEBSITE UPDATE
Our website is currently OPEN and accepting orders for delivery to the UNITED KINGDOM only.
Sorry for any inconvenience and we hope to re-open the website for GLOBAL delivery very soon.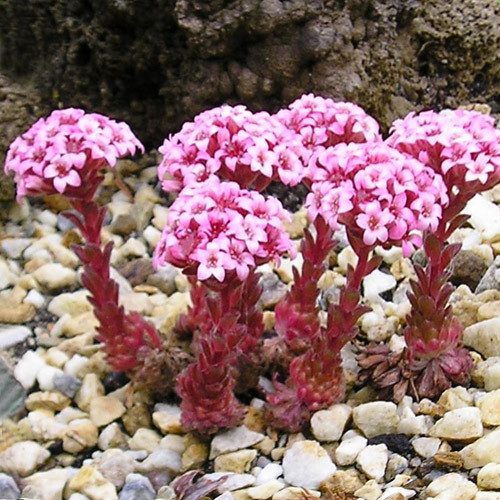 SEDUM PILOSUM
Description
A quite unique, rare and odd little biennial sedum from the Caucasus, the rosettes of which bear a remarkable resemblance to a small sempervivum. The bright pink flowers appear in spring on fleshy rosettes. Although the rosette bearing the flowering stem dies, the plants will gently self-seed making a stable colony in sharply drained conditions.
Sowing Advice
Seeds can be sown at any time but are best sown in winter or early spring to benefit from a cold spell in the wet compost to break their dormancy. We advise covering seeds very thinly with sand or fine grit to about the depth of the seed size. If the seeds do not come up within 6 to 12 weeks the damp seed tray can be given cold treatment in a fridge for about four weeks. They may still take very many months to appear, so please never discard the pot or tray. Sow seeds on sharp compost and just water in. Prick out tiny seedlings into well-drained compost before planting out in a well-drained spot
Key Facts
Common name:Prometheum pilosum
Classification:Hardy biennial
Packet Content:50 (Approx)