COVID-19 UPDATE
Our website is currently OPEN and accepting orders.
Thank you for your understanding in these difficult times.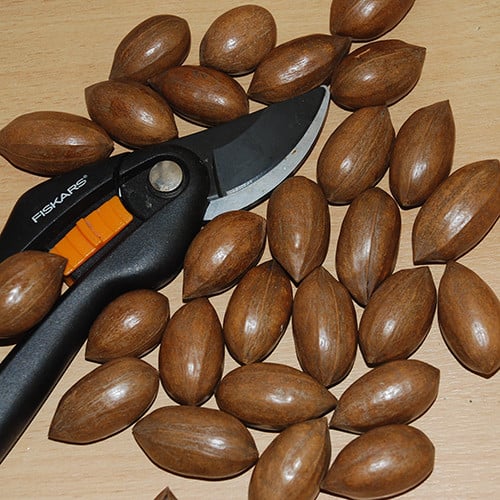 PECAN
Description
These nuts have a distinctive rich, buttery flavor and are probably the most nutritious of all nuts, and indeed are second in popularity only to the pea-nut! Trees live and produce nuts for hundreds of years in a favourably temperate climate, the deciduous trees putting out fresh growth in the spring. Closely related to walnuts, the leaves of the two trees look very similar. This hickory tree, native to Central and Southern North America, has been used as a food source by Native Americans for centuries before the arrival of European colonists. Growth rate of this fast-growing can be up to 1meter or 3 feet per year. This tree is perfect for home owners that love to harvest nuts for cooking. The plants were not actually domesticated until the 17th century, when the first plantations of pecans were established in Mexico. Hardy planting zones are 5-9.
Sowing Advice
These seeds have already been thoroughly cleaned and cold-stored for several months. They should be sown into well-drained, sandy compost at any time of the year, and covered to their own depth with sand or grit. No artificial heat is needed; the seed tray is best left in a cool spot outside and kept moist. Seeds germinate very slowly indeed in the spring after a chilling in the cold compost, regardless of when they are sown. Some seeds may take more than a year to germinate.
Key Facts
Common name:Carya illinoinensis, Pecan Hickory
Classification:Half hardy tree, Hardy tree
Packet Content:3 huge seeds (Approx)