WEBSITE UPDATE
Our website is currently OPEN and accepting orders for delivery to the UNITED KINGDOM only.
Sorry for any inconvenience and we hope to re-open the website for GLOBAL delivery very soon.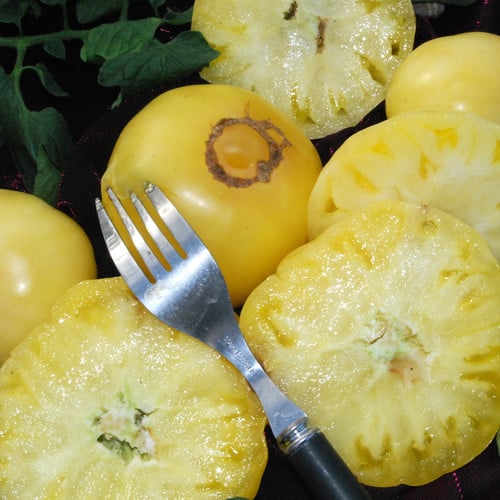 WHITE TOMESOL
Description
This rare treasure, a favourite of gourmet-growers, has parchment-white, almost seedless fruit, with extra smooth skin and a sweet rich and mild citrus-like flavour. An amazing heirloom that is bursting with fragrance, the vines setting very heavy yields, this plant has far outperformed other heirloom tomatoes and even some of the hybrids here. (Cordon)
Sowing Advice
Coverseeds only slightly. Do not allow the soil to dry out. Containers are held in warm conditions until sprouts appear, which may take 3-10 days. Move sprouting plantings immediately to bright light conditions, eg a window. Inadequate light is a frequent cause of failure of young seedlings. Around time of last frost, set seedlings into pots. Remove side-shoots and support the plant.
Key Facts
Packet Content:10 seeds minimum (Approx)