COVID-19 UPDATE
Our website is currently OPEN and accepting orders.
Thank you for your understanding in these difficult times.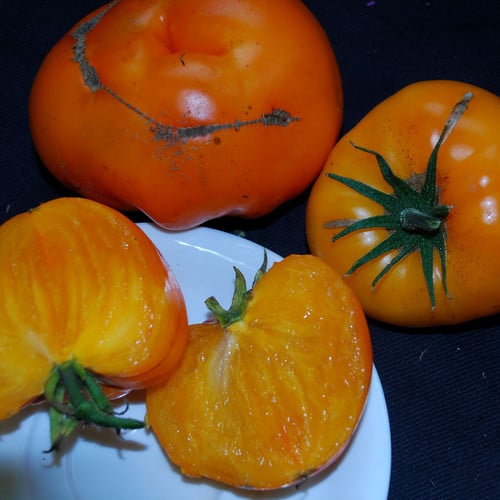 ORLOV'S YELLOW GIANT
Description
These sizeable, perfectly shaped orange-yellow beefsteaks have smooth shoulders, very little core, buttery firm orange flesh with small or no seed cavities and thick gel, with an outstanding flavour evocative of the famous Yellow Brandywine, although this ripens earlier. A vigorous mid to late season potato leaf plant, it stays healthy throughout the entire season. It is said to have originated with Count Aleksei Orlov, the famous animal breeder, horticulturist, and Russian War hero of the 18th century. (Cordon)
Sowing Advice
Seeds are surface-sown or covered only slightly. Do not allow the soil to dry out. Containers are held in warm conditions until sprouts appear, which may take anywhere from 3-10 days. Move sprouting plantings immediately to bright light conditions, such as a south-facing window. Inadequate light is a frequent cause of failure of young seedlings. At about the time of last frost, set out seedlings into pots. Remove side-shoots and support the plant.
Key Facts
Packet Content:20 (Approx)