COVID-19 UPDATE
Our website is currently OPEN and accepting orders.
Thank you for your understanding in these difficult times.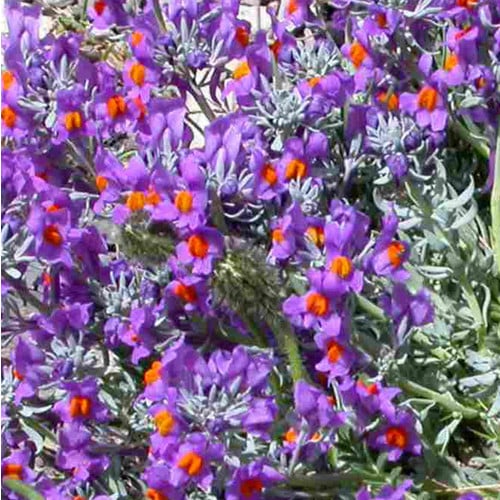 LINARIA ALPINA
Description
Sometimes called alpine toadflax, in contrast to other members of the genus, this plant has orange flowers with orange lobes in the centre. It grows well in very poor soil and especially, in the wild, in recently exposed and unconsolidated glacial moraine, where it is found in many mountain ranges in southern and central Europe. These range from the Sierra de Gredos and the Montes de León in Spain to the mountains of the Balkan Peninsula including the Jura mountains Alps, Pyrenees, and central Apennines.
Sowing Advice
Seeds can be sown at any time but are best sown in winter or early spring to benefit from a cold spell in the wet compost to break their dormancy. We advise covering seeds very thinly with sand or fine grit to about the depth of the seed size. If the seeds do not come up within 6 to 12 weeks the damp seed tray can be given cold treatment in a fridge for about four weeks. They may still take very many months to appear, so please never discard the pot or tray.
Key Facts
Common name:alpine toadflax
Classification:Hardy perennial