COVID-19 UPDATE
Our website is currently OPEN and accepting orders.
Thank you for your understanding in these difficult times.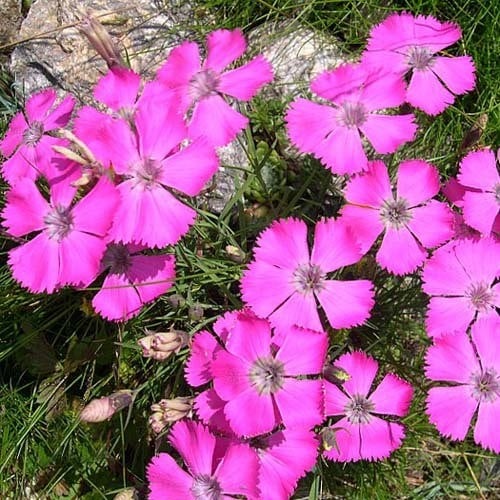 DIANTHUS PAVONIUS
Description
A splendid variety forming a low carpet or cushion of blue-green leaves, and sizeable single starry flowers in late spring, which are in various shades of pink, many with attractive concentric patterns and colours on the flowers, and all with a sweet clove fragrance. These are so called because the species name, pavonius, comes from the Latin "pavo" meaning "like a peacock". These compact plants are ideal for scree or rockery.
Sowing Advice
Seeds can be sown at any time but are best sown in winter or early spring to benefit from a cold spell in the wet compost to break their dormancy. We advise covering seeds very thinly with sand or fine grit to about the depth of the seed size. If the seeds do not come up within 6 to 12 weeks the damp seed tray can be given cold treatment in a fridge for about four weeks. They may still take very many months to appear, so please never discard the pot or tray.
Key Facts
Common name:Peacock-eye Pink,
Classification:Hardy perennial