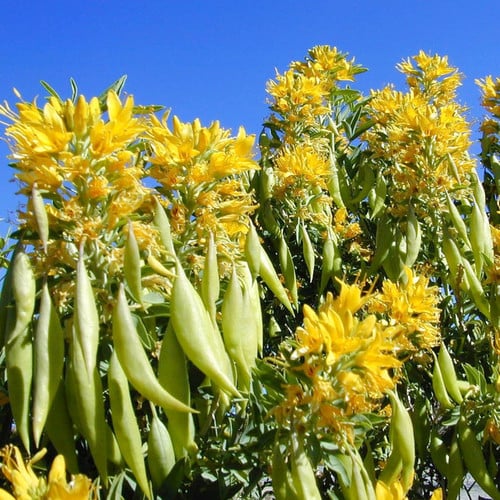 Cleome Arborea
Description
A fascinating and very valuable multi-branched evergreen shrub, boasting showy terminal clusters of yellow flowers with long stamens, that radiate from each flower and protrude outwards. The flowers and the seed pods appear at the same time making an unusual and most attractive sight. Flowering period is from winter into late summer giving a superb period of blossom. Easy-to-grow in almost any aspect, and very undemanding, it provides sweet nectar for pollinating insects over a very long period!
Sowing Advice
These seeds have already been thoroughly cleaned and should be sown into a well-drained, sandy compost at any time of the year, and covered thinly with sand or grit and kept moist. Keep at between 20-25 degrees C. Seeds sometimes germinate within 4 to 6 weeks although some may take very much longer so please be patient. Plant out in the open ground in warmer countries or in a large container elsewhere.
Buy 2 packets & get a 3rd
free
Key Facts
Common name:Easter shrub, bladderpod, spiderflower and burro-fat.
Classification:Half hardy shrub
Packet Content:10 (Approx)