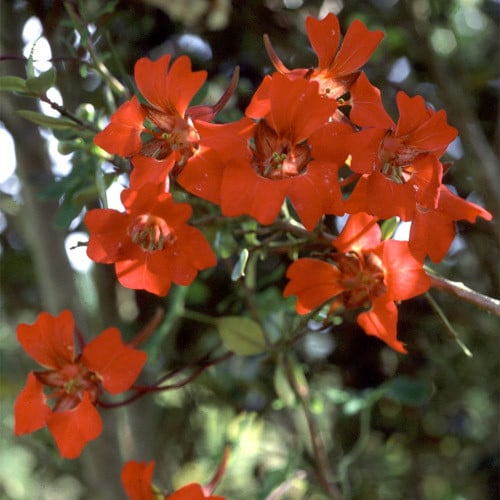 TROPAEOLUM SPECIOSUM
Description
Sheets of dazzling scarlet flowers cascading amidst pretty, delicate, divided leaves adorn this gorgeous plant throughout midsummer. This fabulous Chilean native prefers peat to be incorporated into the soil, when it will make countless, long-lived hardy tubers. It is happiest when planted under dark shrubs, when it will soon establish and scramble over them, especially boring evergreen ones that have either finished, or are yet to flower. Finally, in late summer and autumn, bright blue shiny berries are formed. Just a few fresh seeds are collected here every autumn!
Sowing Advice
Seeds can be sown at any time but are best sown in winter or early spring to benefit from a cold spell in the wet compost to break their dormancy. We advise covering seeds very thinly with sand or fine grit to about the depth of the seed size. If the seeds do not come up within 6 to 12 weeks the damp seed tray can be given cold treatment in a fridge for about four weeks. They may still take very many months to appear, so please never discard the pot or tray.
Key Facts
Common name:Flame Nasturtium, "Scottish Flame Flower".
Classification:Half hardy climber
Packet Content:6 (Approx)