WEBSITE UPDATE
Our website is currently OPEN and accepting orders for delivery to the UNITED KINGDOM only.
Sorry for any inconvenience and we hope to re-open the website for GLOBAL delivery very soon.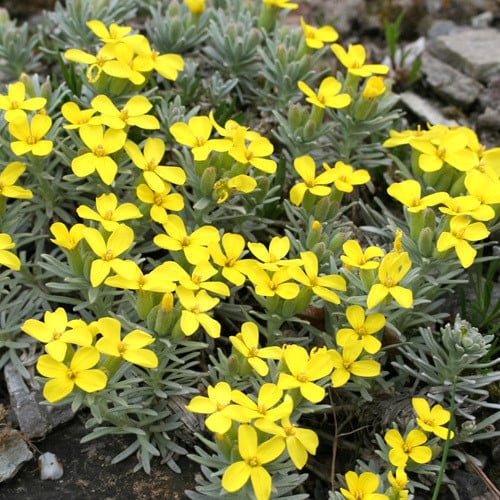 DEGENIA VELEBITICA
Description
Striking, grey cushions, composed of silvery-grey hairs, grow to 4" high, with fragrant lemon-yellow flowers from May to June. It does best if grown in full to part sun, in gritty, well drained soil, for example in a rock garden or trough. This rare and lovely member of the cruciferae has just one single species, and is endemic to the Velebit and Kapela mountain ranges in Croatia where it has become a symbol of the region. Discovered by Dr. Àrpàd Degen on the 17 July 1917, it is depicted on the reverse of the Croatian 50 lipa coin, minted since 1993.
Sowing Advice
Seeds can be sown at any time but are best sown in winter or early spring to benefit from a cold spell in the wet compost to break their dormancy. We advise covering seeds very thinly with sand or fine grit to about the depth of the seed size. If the seeds do not come up within 6 to 12 weeks the damp seed tray can be given cold treatment in a fridge for about four weeks. They may still take very many months to appear, so please never discard the pot or tray.
Key Facts
Classification:Hardy perennial
Packet Content:10 (Approx)