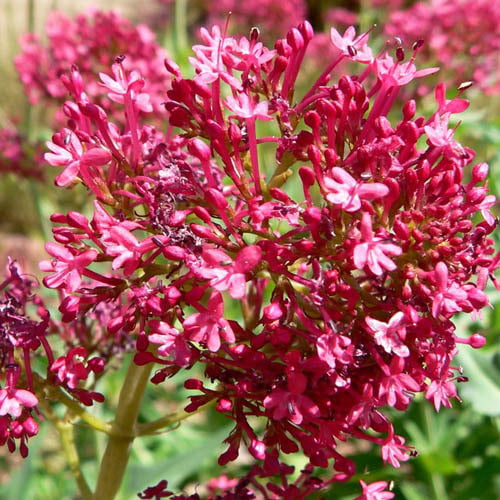 CENTRANTHUS RUBER
Description
The grey-green waxy leaves and very sweetly-perfumed red flowers, occasionally pink or white with no intermediate shades, combine to perfection, and look best grown en-masse on banks, or when allowed to self-seed in walls and paving. They are very attractive to bees and butterflies and other pollinating insects and will even grow well in shallow soil where virtually nothing else will grow. And additionally, in olden times, and even now, both leaves and roots can be eaten, the leaves either fresh in salads or lightly boiled, the roots boiled in soups!
Sowing Advice
For best results, sow immediately onto a good soil-based compost. Cover the seeds with fine grit or compost to approximately their own depth. They can be sown at any time, and germination can sometimes be quicker if kept at 15 to 20 degrees C. We sow most seeds in an unheated greenhouse and wait for natural germination, as many seeds have built-in dormancy mechanisms, often waiting for natural spring germination, hence giving them a full season of growth.
Key Facts
Common name:Red Valerian, Jupiter's Beard, Spur Valerian, Keys to Heaven, Kentranthus ruber.
Classification:Hardy perennial