WEBSITE UPDATE
Our website is currently OPEN and accepting orders for delivery to the UNITED KINGDOM only.
Sorry for any inconvenience and we hope to re-open the website for GLOBAL delivery very soon.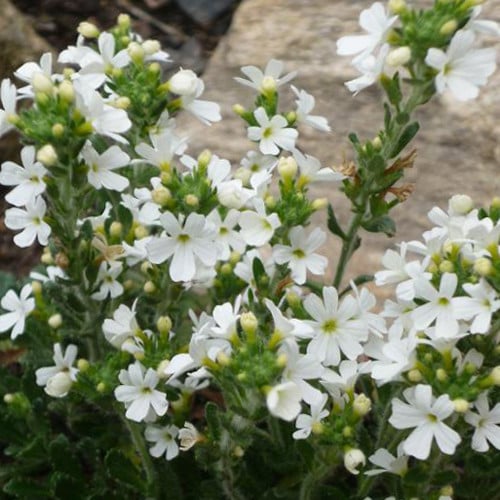 ERINUS ALPINUS ALBA
Description
Although this miniature alpine plant is sometimes called the "White Fairy Foxglove" you would never guess it is in the foxglove family. Dwarf spikes bearing clusters of pure snow-white flowers arise over tiny tufts of hairy leaves. These attractive gems will grow anywhere, even in the cracks of a wall or between paving slabs.
Sowing Advice
Seeds can be sown at any time but are best sown in winter or early spring to benefit from a cold spell in the wet compost to break their dormancy. We advise covering seeds very thinly with sand or fine grit to about the depth of the seed size. If the seeds do not come up within 6 to 12 weeks the damp seed tray can be given cold treatment in a fridge for about four weeks. They may still take very many months to appear, so please never discard the pot or tray.
Key Facts
Common name:White Fairy Foxglove, White Alpine balsam, White Jewel flower, White Liver balsam
Classification:Hardy perennial