WEBSITE UPDATE
Our website is currently OPEN and accepting orders for delivery to the UNITED KINGDOM only.
Sorry for any inconvenience and we hope to re-open the website for GLOBAL delivery very soon.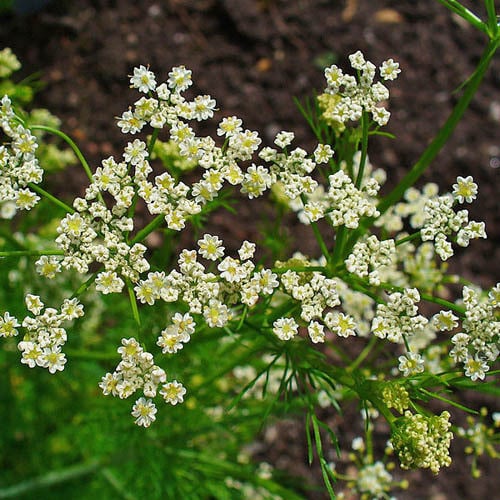 CARAWAY
Description
Also known as meridian fennel, or Persian cumin, this ancient plant is native to western Asia, Europe and Northern Africa. Very similar in appearance to other members of the carrot family, it has finely divided, feathery leaves with thread-like divisions, whilst the main flower stem bears umbels of white or pink flowers. The seeds (or more correctly, fruits), usually used whole, have a pungent, aniseed-like flavour and aroma that comes from essential oils, mostly carvone and limonene and they are often used as a spice in breads, especially rye bread. It is also used in desserts, liquors, casseroles and curries. It is commonly used in British caraway seed cake and is also added to sauerkraut and Akvavit and several liqueurs are also made with it. The roots may be cooked like parsnips or carrots and the leaves are sometimes eaten raw or cooked. Caraway also has a long tradition of medical uses, primarily for stomach complaints, as most babies who have been given 'gripe water' will know.
Sowing Advice
For best results, seeds are sown directly into the ground where required in the spring. Alternatively, sow in late winter/early spring in gentle warmth, 15-20 degrees C. Prick out into small 3 inch or 7 cm. pots and plant in final position when the plants are established.
Key Facts
Family:Umbelliferae, Apiaceae
Common name:Carum carvi, Meridian Fennel, Persian Cumin
Classification:Hardy biennial
Packet Content:100 (Approx)