COVID-19 UPDATE
Our website is currently OPEN and accepting orders.
Thank you for your understanding in these difficult times.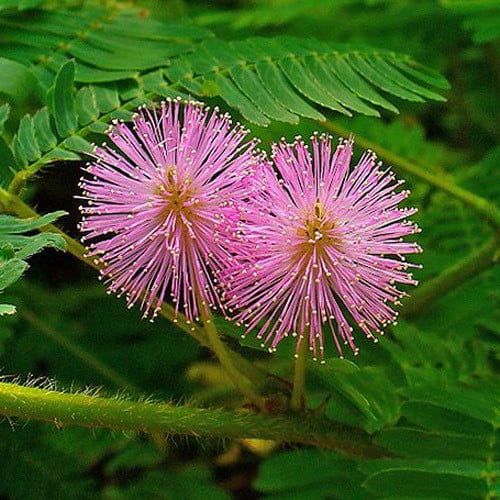 MIMOSA PUDICA
Description
This plant will bring hours of entertainment to kids of any age as the leaves instantly fold up when you touch them! And give them an hour or so and up they'll come again. As potted plants mature, they form small pink puffs of bloom adding an extra benefit to this unique species and what a perfect way to introduce children to the world of plants. Technically speaking, the leaves have the capability to display thigmonasty (touch-induced movement). When the leaves are touched, shaken, or heated, the speed of the response depends on the magnitude of the stimulus. Hitting the leaf hard with the flick of a finger will cause the leaf to close in the blink of an eye, whereas a gentle touch applied to leaflets at the tip of a leaf will result in a slower response. Everyone should grow one at some time in their life!
Sowing Advice
For best results, sow seeds in good light at any time onto a good soil-based compost. Cover the seeds with fine grit or compost to approximately their own depth. We recommend germinating at 15 to 20 degrees C. Seeds should ideally germinate in between 2 and 6 weeks although they make take considerably longer. Pot on seedlings before finally planting out into a container or a well-drained spot.
Key Facts
Common name:Sensitive plant, Sleepy plant, Touch-me-not, Humble Plant, Sleeping Grass, Shameful Plant
Classification:Half hardy perennial