WEBSITE UPDATE
Our website is currently OPEN and accepting orders for delivery to the UNITED KINGDOM only.
Sorry for any inconvenience and we hope to re-open the website for GLOBAL delivery very soon.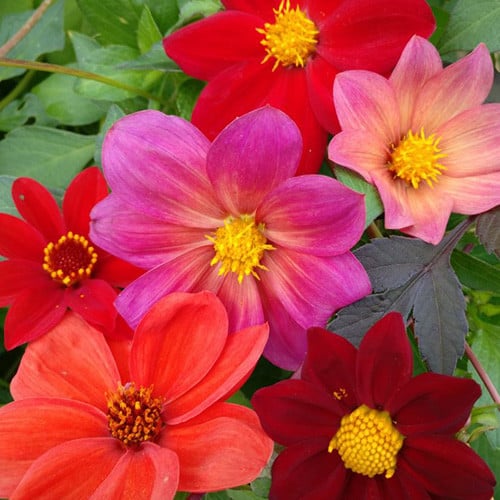 DAHLIA AUTUMN DAZZLERS
Description
New! Dahlia australis, the true species, is a magnificent plant, with demurely nodding pink to lilac flowers, (which are bigger than the similar D. merckii, which is less vigorous and of smaller stature.) Sadly, we have found that it can be difficult to keep year on year. But one day, we discovered that the busy bees at Plant World gardens had pollinated a Dahlia australis plant with pollen from other lovely dahlia cultivars in our gardens. And what an amazing surprise we received when this handful of seeds germinated and finally flowered! A completely new generation of tall but elegant dahlias with numerous branching spindly stems, offering months of a complete spectrum of vibrant colour with surprisingly little effort. These will flower their heads off in virtually any sunny spot, until the first frosts cut them down. Almost constant-flowering, these lovely single flower forms, with the occasional dark-leafed specimen, make solid, stately, almost shrubby plants, which are very easy to integrate into the average garden border, and appear to be quite hardy, having survived for ten years outside untouched by winter. Not prolific seed producers but worth any trouble to grow.
Sowing Advice
For best results, sow immediately onto a good soil-based compost. Cover the seeds with fine grit or compost to approximately their own depth. They can be sown at any time, and germination can sometimes be quicker if kept at 15 to 20 degrees C. We sow most seeds in an unheated greenhouse and wait for natural germination, as many seeds have built-in dormancy mechanisms, often waiting for natural spring germination, hence giving them a full season of growth. When possible, plant out into a warm, sunny, well-drained spot.
Key Facts
Common name:Dahlia australis hybrids
Classification:Half hardy perennial
Packet Content:12 (Approx)