COVID-19 UPDATE
Our website is currently OPEN and accepting orders.
Thank you for your understanding in these difficult times.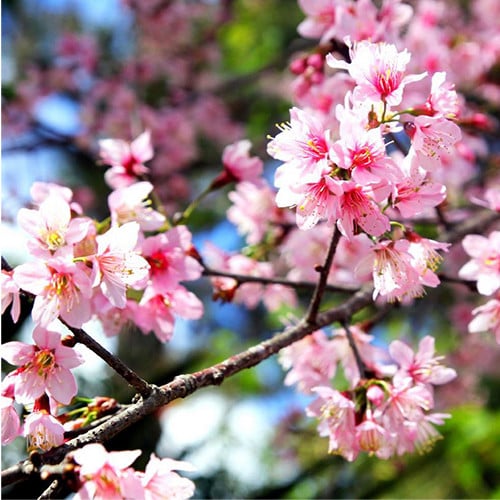 PRUNUS CERASOIDES PINK
Description
This extremely attractive tree is adorned with sprays of pastel pink flowers which later become clusters of yellow cherries that turns bright red as they ripen and can be eaten raw or cooked. Also prized for its attractive ringed bark, it is unusual in that it flowers in autumn and winter when little other colour is around. Finally, the fruits and the leaves give a dark green dye, seeds can be used in the manufacture of necklaces, the wood is hard, strong, durable and aromatic, and branches are used as walking sticks.
Sowing Advice
These seeds need a period of stratification to break their dormancy. You can do this by soaking the seeds for 24 hours and then placing them in a sealed freezer bag in the fridge. Do not allow the seeds to dry out. The seeds can then be sown after 6-8 weeks and should germinate normally in a safe, bright, cold place outdoors, and can take up to 6 months or even much longer so do not discard the seed pot. Alternatively you can sow the seed in a moist seed tray and then leave the tray outside over the winter to allow for natural stratification to occur.
Key Facts
Classification:Hardy tree
Packet Content:10 (Approx)