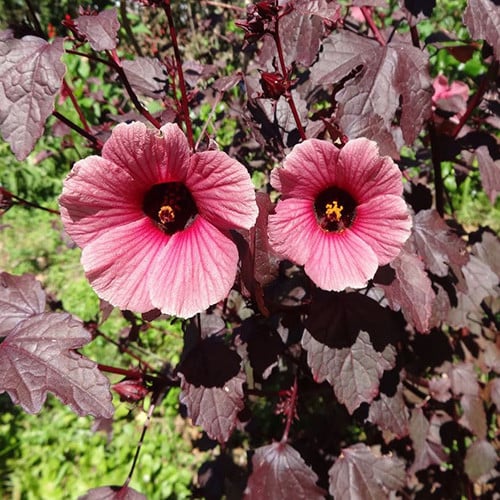 Hibiscus Acetosella
Description
Deep crimson to purple flowers with darker striped petals and dark eyes, open on stems clad in dissected foliage which is very reminiscent of Japanese maple leaves. These are at least as attractive as the flowers, and can vary from dark bronze to deepest purple, and this is the one hibiscus that is grown for its beautiful foliage as well as for the flowers! The fast growing and shrubby habit of this unusual plant makes it a good choice for a seasonal hedge, an attractive annual specimen plant, or even an indoor container plant. Very few seeds obtainable.
Sowing Advice
These seeds have already been thoroughly cleaned and should be sown into a well-drained, sandy compost at any time of the year, and covered thinly with sand or grit and kept moist. Keep at between 20-25 degrees C. Seeds sometimes germinate within 4 to 6 weeks although some may take very much longer so please be patient. Plant out in the open ground in warmer countries or in a large container elsewhere.
Buy 2 packets & get a 3rd
free
Key Facts
Common name:African rosemallow, false roselle, maroon mallow, cranberry hibiscus or red leaved hibiscus.
Classification:Half hardy shrub, Greenhouse perennial, Half hardy annual
Packet Content:5 (Approx)