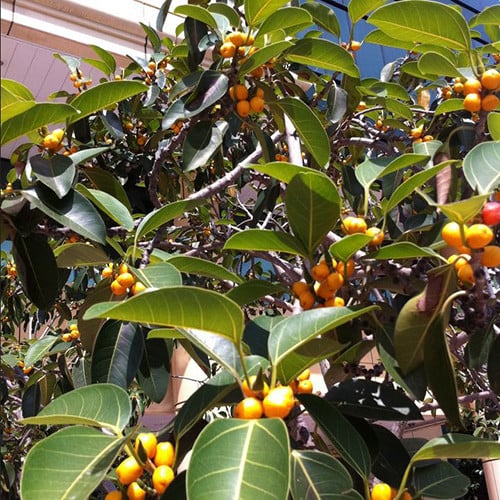 Ficus Altissima
Description
This sizeable evergreen tree has a buttressed trunk and a spreading crown, and bark that is smooth and grey, with small pale brown pustules. The attractive clusters of orange-red fruits are officially described as edible, but they are hard and not palatable and are usually grown for their ornamental effect. The large leaves, a little like the rubber plant, have wonderfully pale green veins that show up beautifully against the emerald green of the leaves. This particular ficus is a beautiful addition to any home and makes an excellent container plant.
Sowing Advice
These seeds have already been thoroughly cleaned and should be sown into a well-drained, sandy compost at any time of the year, and covered thinly with sand or grit and kept moist. Keep at between 20-25 degrees C. Seeds sometimes germinate within 4 to 6 weeks although some may take very much longer so please be patient. Plant out in the open ground in warmer countries or in a large container elsewhere.
Buy 2 packets & get a 3rd
free
Key Facts
Common name:False Banyan, Lofty Fig, Council Tree.
Classification:Greenhouse perennial
Packet Content:20+ (Approx)