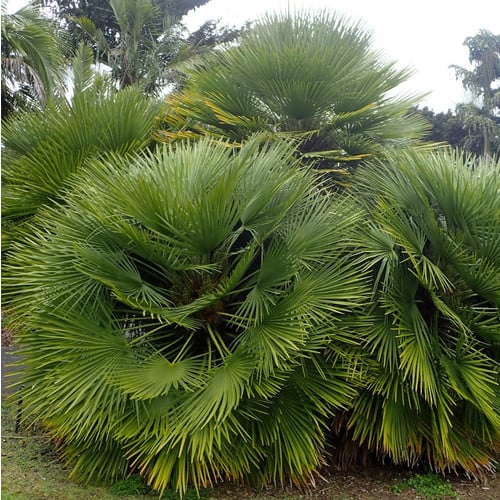 CHAMAEROPS HUMILIS
Description
This incredible plant looks tropical, but is in fact perfectly ok with non-tropical conditions. Indeed, It is one of only two palms native to Europe and copes happily with British weather. Cold temperatures, wind and drought won't phase it. One has thrived, unprotected on a north facing hillside in our gardens in Southern England for more than 30 years, and we have had minus 12C at times. It is one of the most cold-hardy palms and is used frequently in landscaping in colder countries. In the wild, it grows mainly in southwestern Europe, especially in Spain and Portugal. It provides an exotic focal point in the garden with its evergreen fan-shaped leaves, and is naturally slow growing and rarely exceeds head height. Although it is very hardy indeed, it will do best in moist but well-drained soil in a warm, sheltered position such as in a sunny border.
Sowing Advice
These seeds have already been thoroughly cleaned and should be sown into a well-drained, sandy compost at any time of the year, and covered thinly with sand or grit and kept moist. Keep at between 20-25 degrees C. Seeds sometimes germinate within 4 to 6 weeks although some may take very much longer so please be patient. Plant out in the open ground in warmer countries or in a large container elsewhere.
Key Facts
Common name:European fan palm, Mediterranean dwarf palm.
Classification:Half hardy shrub, Hardy shrub
Packet Content:3 large (Approx)