COVID-19 UPDATE
Our website is currently OPEN and accepting orders.
Thank you for your understanding in these difficult times.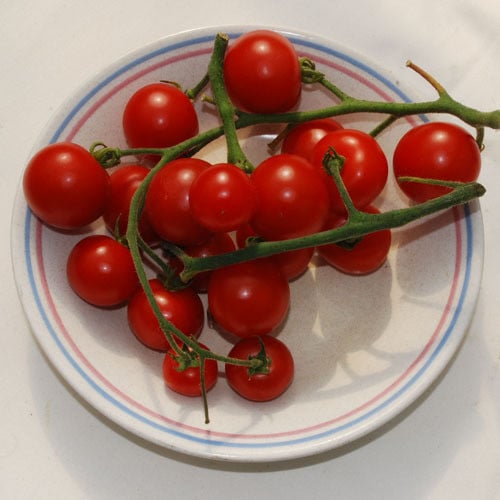 VELVET RED
Description
The 'Velvet Red Tomato' is almost too bizarre to be real, the leaves of this extraordinary heirloom plant being a fuzzy silvery gray colour, whilst the skins of these scrumptious, supersweet little red cherry tomatoes are velvety! This is not only an ornamental plant, though, as the fruit is absolutely delicious. This spectacular novelty tomato, a great selection for a patio garden, grown from these rare seeds, might be the most beautiful ornamental vegetable you will ever grow and is guaranteed to turn heads! (SEMI-BUSH)
Sowing Advice
Seeds are surface-sown or covered only slightly. Do not allow the soil to dry out. Containers are held in warm conditions until sprouts appear, which may take anywhere from 3-10 days. Move sprouting plantings immediately to bright light conditions, such as a south-facing window. Inadequate light is a frequent cause of failure of young seedlings. At about the time of last frost, set out seedlings into grow bags. Plants need staking but there is no need to remove the side shoots.
Key Facts
Common name:ANGORA SUPER SWEET
Packet Content:20 (Approx)