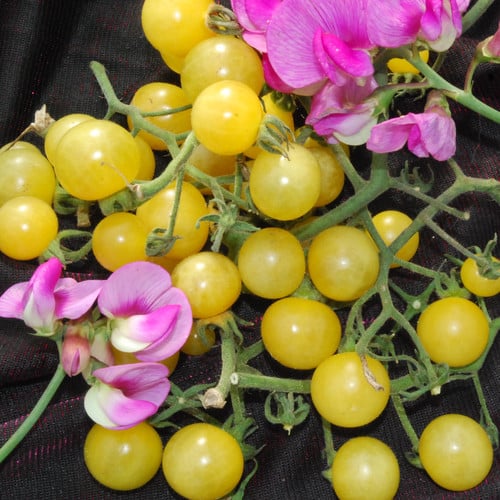 Tomato Honey Bubbles
Description
These rare and truly amazing plants produce heavy bunches of true cherry-sized, sweet-as-honey, soft fruits, which explode in your mouth. The same colour, and indeed the same size as white grapes, they are actually smaller than most cherry tomatoes but bigger than a currant tomato, and are easy-to-grow and heavy cropping too! Unique amongst tomatoes. (Cordon)
Sowing Advice
Cover seeds only slightly. Do not allow the soil to dry out. Containers are held in warm conditions until sprouts appear, which may take 3-10 days. Move sprouting plantings immediately to bright light conditions, eg a window. Inadequate light is a frequent cause of failure of young seedlings. Around time of last frost, set seedlings into pots. Remove side-shoots and support the plant.
Buy 2 packets & get a 3rd
free
Key Facts
Common name:"Champagne currant"
Packet Content:10 (Approx)