WEBSITE UPDATE
Our website is currently OPEN and accepting orders for delivery to the UNITED KINGDOM only.
Sorry for any inconvenience and we hope to re-open the website for GLOBAL delivery very soon.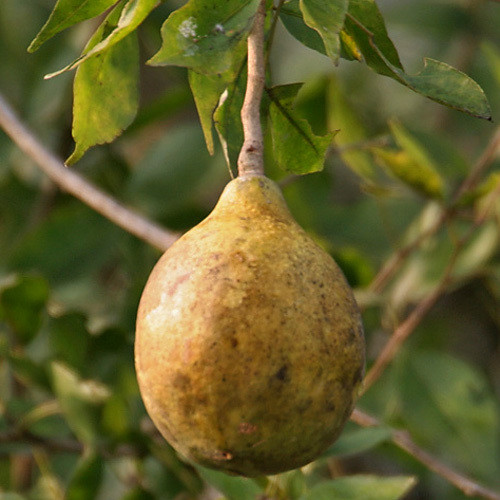 AEGLE MARMELOS
Description
This mid-sized, slender, aromatic, gum-bearing tree has branches clad in leaves with three leaflets and greenish white, sweetly scented flowers, that finally transform into the amazing smooth-shelled "bael fruit" that can be eaten either fresh or dried and tastes of marmalade, although it actually smells of roses! Sacred by Hindus, it is known to produce one of the most commonly used fruits in Ayurvedic treatments as well as other traditional systems of medicine. In the traditional Newari culture of Nepal, this tree is part of a girls fertility ritual known as the Bel baha. Girls are "married" to the bael fruit, and as long as the fruit is kept safe and never cracks, the girl can never become widowed, even if her human husband dies. This was protection against the social disdain suffered by widows in that community.
Sowing Advice
These seeds have already been thoroughly cleaned and should be sown into a well-drained, sandy compost at any time of the year, and covered thinly with sand or grit and kept moist. Keep at between 20-25 degrees C. Seeds sometimes germinate within 4 to 6 weeks although some may take very much longer so please be patient. Plant out in the open ground in warmer countries or in a large container elsewhere.
Key Facts
Common name:Bengal quince, Stone apple, Japanese Bitter Orange, Bael
Classification:Greenhouse perennial
Packet Content:6 (Approx)