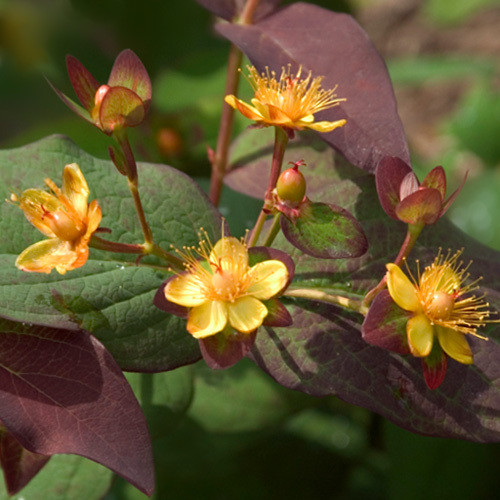 Hypericum Albury Purple
Description
These beautiful dusky-purple-leafed, semi-evergreen, bushy plants have an upright habit, bearing contrasting yellow flowers in mid-summer followed by ornamental clusters of berries that slowly change from pink to red to black. Excellent in cut-flower bouquets, it also has a superb autumn effect. It is best cut back heavily in spring as the darkest leaf colour is displayed on new growth.
Sowing Advice
Seeds have already been thoroughly cleaned and cold-stored for several months. Sow into well-drained, sandy compost at any time of year, cover to their own depth with sand or grit. No artificial heat is needed; seed tray is best left in a cool protected spot and kept moist. Seeds usually germinate in spring, regardless of when sown.
Buy 2 packets & get a 3rd
free
Key Facts
Family:Guttiferae, Clusiaceae.
Common name:Hypericum androsaemum, Purple St. John's-Wort
Classification:Hardy shrub