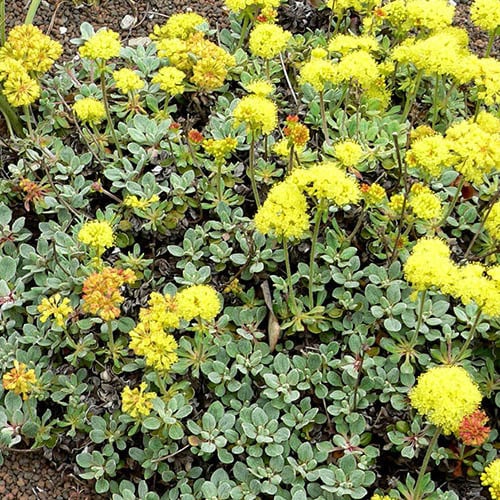 Eriogonum Umbellatum
Description
With evergreen, woolly grey foliage and brilliant bright yellow blooms from late spring through late summer, this is a valuable and very rarely-seen groundcover. Occasionally purple flowers have been seen! Extremely tolerant of drought and heat as well as cold, this dwarf, bone-hardy, slow-spreading, long-lived, alpine gem thrives in dry, hot exposed spots, indeed, it is happy in perfect drainage to the point of living in gravel, even in areas that are too poor to support most plant life. In the wild it lives in ranges west of the Rocky Mountains. Although it assumes star roles in drought-tolerant landscapes, it is so adaptable that it also thrives in humid climates.
Sowing Advice
Sow immediately at any time onto preferably a soil-based compost, covering with fine grit to approximately their own depth. Germination MAY be quicker if kept at 15 to 20 degrees C. but many seeds WILL NOT come up the year they are sown, needing winter chilling after sowing, and ONLY come up with natural spring germination.
Buy 2 packets & get a 3rd
free
Key Facts
Common name:Sulphurflower buckwheat, Sulphur flower.
Classification:Hardy biennial
Packet Content:4 seeds (Approx)