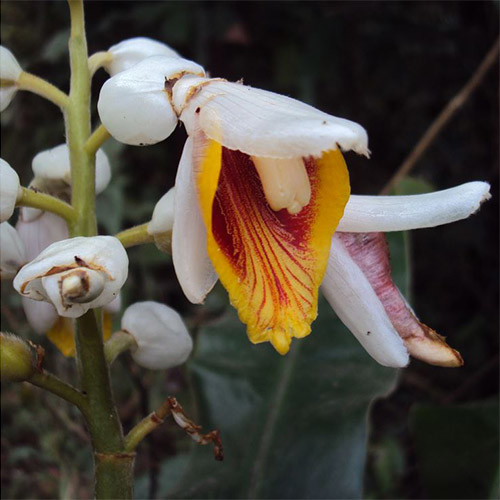 ALPINIA MALACCENSIS
Description
With an astonishing resemblance to a tropical orchid, this rarely seen plant in the Ginger family makes a beautiful and intriguing addition to any suitable garden, whilst in cooler climes it can make an impressive container exhibit indoors. A native of Indonesia and Malaysia, it is also cultivated for medicinal purposes, as an oil is obtained from the dried rhizome, and it is reputed to have many medicinal properties. In Arunachal Pradesh its flower buds and young flowers are eaten by the 'Adi' tribe and are said to be very tasty!
Sowing Advice
These seeds have already been thoroughly cleaned and should be sown into a well-drained, sandy compost at any time of the year, and covered thinly with sand or grit and kept moist. Keep at between 20-25 degrees C. Seeds sometimes germinate within 4 to 6 weeks although some may take very much longer so please be patient. Plant out in the open ground in warmer countries or in a large container elsewhere.
Key Facts
Common name:Buekia malaccensis, Catimbium malaccense, Costus malaccensis Languas malaccensis, Maranta malaccensis.
Classification:Half hardy perennial
Packet Content:10 (Approx)