WEBSITE UPDATE
Our website is currently OPEN and accepting orders for delivery to the UNITED KINGDOM only.
Sorry for any inconvenience and we hope to re-open the website for GLOBAL delivery very soon.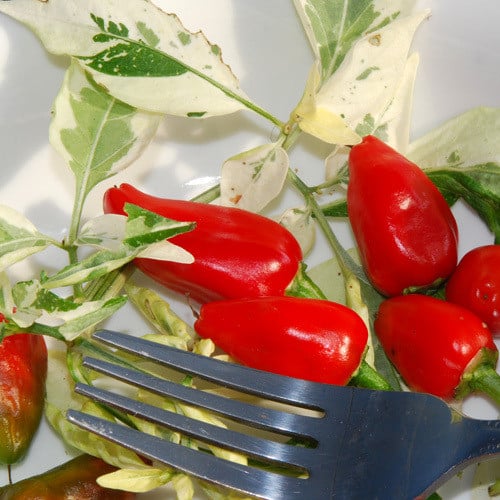 FISH
Description
These plants with distinctive variegated creamy white and green leaves, grow barely 2 feet tall making them ideal to grow in containers. The short, pointed pendant, spicy fruits, which mature a deep red colour, become mellower when cooked or they can be dried to make chilli powder.
Sowing Advice
Surface-sow or barely cover the seeds indoors, and keep warm and moist. When sprouts appear move them to a sunny window. Set out well-developed transplants after last frost date when weather is warm. Peppers need rich moist soil and warm sunny conditions to flourish. Best sown in early spring.
Key Facts
Packet Content:12 (Approx)