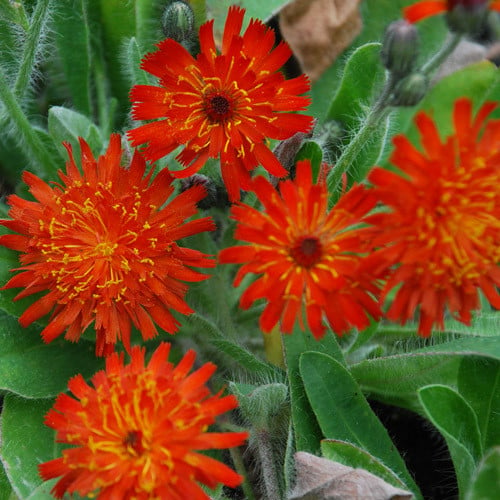 HIERACIUM AURANTIACUM
Description
Hieracium aurantiacum is also called Pilosella aurantiaca, with common names including Orange Hawkweed, Tawny Hawkweed, Devil's Paintbrush and Grim-the-collier! This favourite old cottage garden plant has brilliant coppery, orange-red flowers with black tips (hence its name) which appear on short stems for a long period in spring and summer. It will run slowly and is perfect for a wild garden or a rockery.
Sowing Advice
Sow at any time. Cover with compost or grit 2mm deep. Keep moist in a propagator or a warm spot outside. Some seeds may need a prolonged cold spell before they germinate the following spring.
Key Facts
Common name:ORANGE HAWKWEED, DEVIL'S PAINTBRUSH, GRIM-THE-COLLIER, THE CHIMNEY SWEEPchimney sweep.
Classification:Hardy perennial