WEBSITE UPDATE
Our website is currently OPEN and accepting orders for delivery to the UNITED KINGDOM only.
Sorry for any inconvenience and we hope to re-open the website for GLOBAL delivery very soon.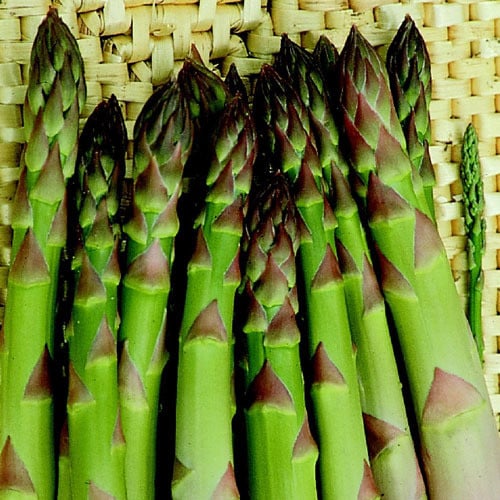 CONNOVER'S COLOSSAL
Description
The quality of these bright green spears with deep purple tips, and huge yield, is exceptional for a non hybrid. One of the most sought-after vegetables, asparagus is not difficult to grow if kept well-fed and weed-free, the delicately flavoured young shoots of asparagus being one of the great luxuries of the vegetable plot. Plants remain productive for at least 15 to 20 years. Plant this perennial vegetable just once and enjoy the succulent spears for years! RHS AGM winner.
Sowing Advice
Traditionally, asparagus is sown in a seed bed outside, and the transplanted to its final position the next year. In the autumn prior to sowing, dig over the seedbed adding well-rotted compost and removing weeds. Asparagus seeds are best sown thinly in April at a depth of about 5cm, rows should be 30cm apart. Gradually thin out the seedlings to 30cm apart, removing the female plants that produce berries, as they are less productive. In year two, carefully dig up the plants and transplant them to their final position in a richly-prepared raised asparagus bed.
Key Facts
Packet Content:100 (Approx)