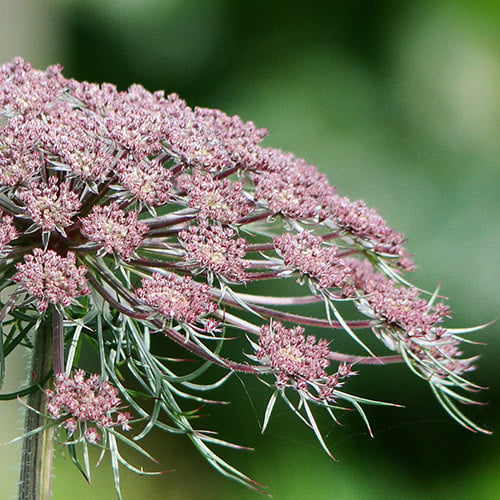 DAUCUS CAROTA subsp. MAXIMA
Description
This rarely-seen, multi-value plant grows hairy feathery foliage which is traditionally collected in Crete as a wild vegetable in the spring. The flowers have a delicate lace-like structure which is distinguished by the single sterile deep purple or black flower in the centre of the otherwise mostly white or sometimes rose flowered, flat or slightly curved umbel. When the seeds ripen in the early summer, the umbels curve strongly inwards to protect the seeds, producing a truly impressive and very beautiful structure. An old English popular name was appropriately, "The birds nest'. It is a spectacularly tall plant, often towering to more than 2 metres, the small seeds being slightly flattened with numerous bristles, and remarkably each plant develops individually, one by one, you can never see all plants in a population at approximately the same stage of development!
Sowing Advice
For best results, sow immediately onto a good soil-based compost. Cover the seeds with fine grit or compost to approximately their own depth. They can be sown at any time, and germination can sometimes be quicker if kept at 15 to 20 degrees C. We sow most seeds in an unheated greenhouse and wait for natural germination, as many seeds have built-in dormancy mechanisms, often waiting for natural spring germination, hence giving them a full season of growth.
Key Facts
Common name:Giant Cretan Carrot.
Classification:Hardy perennial