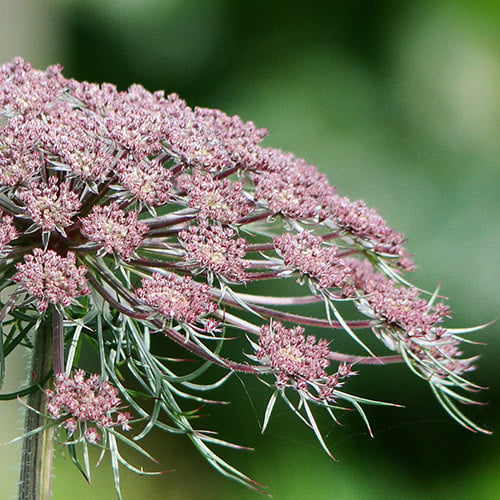 Daucus Carota Subsp. Maximus
Description
This impressively tall, rarely-seen, multi-value plant grows hairy feathery foliage which is traditionally collected in Crete as a wild vegetable in the spring. The fragrant flowers have a delicate lace-like structure with a single deep purple or black flower in the centre of the rose flowered curved umbel. These seeds were freshly collected for us in Crete, and when they ripen in the early summer, the umbels curve strongly inwards to protect the loose ball of detached seeds, producing a truly impressive and very beautiful structure, much like eggs in a nest. Indeed, an old English popular name was "The birds nest'. You also have a wonderful source of natural medicine at your disposal as Dioscorides asserts that the best specimen forms for healthy use come from Crete and surrounding islands!
Sowing Advice
Sow immediately at any time onto preferably a soil-based compost, covering with fine grit to approximately their own depth. Germination MAY be quicker if kept at 15 to 20 degrees C. but many seeds WILL NOT come up the year they are sown, needing winter chilling after sowing, and ONLY come up with natural spring germination.
Buy 2 packets & get a 3rd
free
Key Facts
Common name:Giant Cretan Carrot.
Classification:Hardy perennial
Packet Content:20 (Approx)