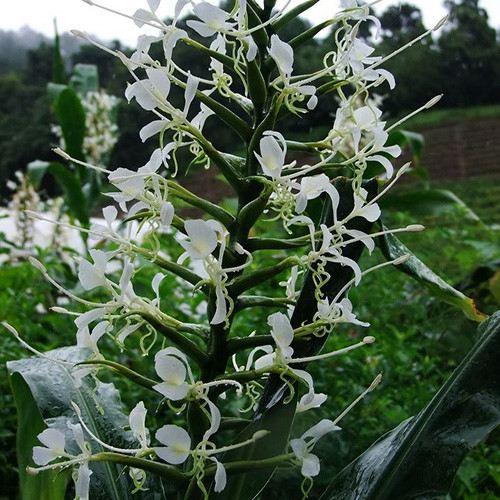 Hedychium Stenopetalum
Description
Snow-white, exceedingly fragrant flowers have a faint greenish-yellow tint to the base, and prominent white or off-white stamens. This rarely-offered Indian native, with big, bold, banana-like leaves, is very easy to grow from seed, and is one of the very tallest of all Hedychium species growing anything up to ten feet (3m) or so tall. Superb for a large garden in a warm climate, or a warm sheltered garden or even a large container elsewhere.
Sowing Advice
These seeds have already been thoroughly cleaned and should be sown into a well-drained, sandy compost at any time of the year, and covered thinly with sand or grit and kept moist. Keep at between 20-25 degrees C. Seeds sometimes germinate within 4 to 6 weeks although some may take very much longer so please be patient. Plant out in the open ground in warmer countries or in a large container elsewhere.
Buy 2 packets & get a 3rd
free
Key Facts
Common name:Slenderpetal Lily.
Classification:Greenhouse perennial, Half hardy perennial
Packet Content:8 (Approx)