COVID-19 UPDATE
Our website is currently OPEN and accepting orders.
Thank you for your understanding in these difficult times.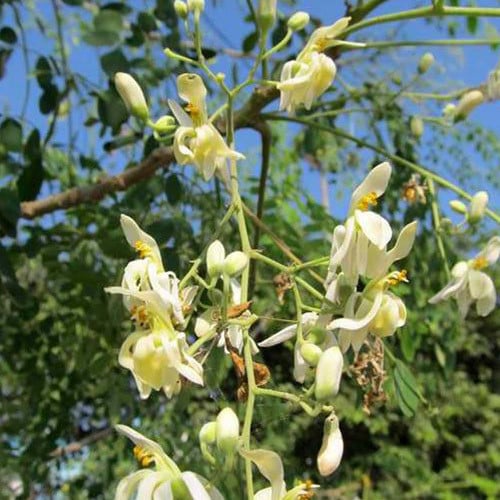 MORINGA PTERYGOSPERMA
Description
This fast-growing, drought-resistant tree, native to the southern foothills of the Himalayas in north western India is widely cultivated in tropical and sub-tropical areas. Hanging clusters of fragrant, orchid-like flowers later become hanging fruits which are three-sided brown capsules holding dark brown, globular seeds which have three whitish, papery wings and are dispersed by wind and water and are sometimes eaten like peas or roasted like nuts. The whitish-grey bark is surrounded by thick cork, and in cultivation the trunk is often cut back annually to 1–2 meters and allowed to regrow, and the pods and leaves thus remain within arm's reach.
Sowing Advice
These seeds have already been thoroughly cleaned and should be sown into a well-drained, sandy compost at any time of the year, and covered thinly with sand or grit and kept moist. Keep at between 20-25 degrees C. Seeds sometimes germinate within 4 to 6 weeks although some may take very much longer so please be patient. Plant out in the open ground in warmer countries or in a large container elsewhere.
Key Facts
Common name:Moringa oleifera, Drumstick tree, Horseradish tree, Ben oil tree, Benzoil
Classification:Half hardy tree, Greenhouse perennial
Packet Content:10 large seeds (Approx)