WEBSITE UPDATE
Our website is currently OPEN and accepting orders for delivery to the UNITED KINGDOM only.
Sorry for any inconvenience and we hope to re-open the website for GLOBAL delivery very soon.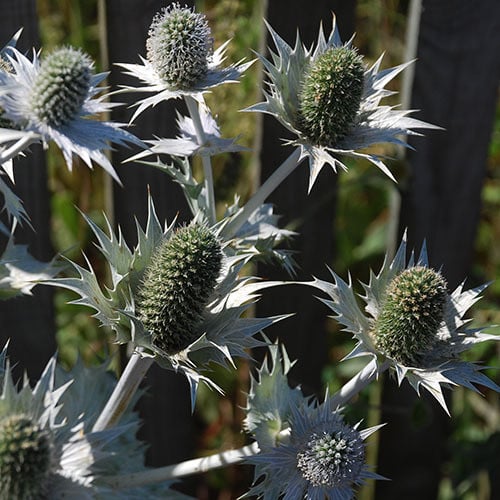 ERYNGIUM GIGANTEUM 'SILVER GHOST'
Description
This Eryngium is a broader, more compact, and in all ways superior form of Miss Wilmott's Ghost. It is most desirable in the garden where it holds its silvery colour longer, also making a most attractive cut flower which dries and retains its sheen well. Surprisingly, and totally unexpectedly (so please remember this...), they come up the first year with soft green leaves, nothing at all like the final plant. They later die down to a hardy tuber to overwinter. But, surprise, surprise....the following year erupts the fabulous metallic, silver-grey familiar foliage, followed by the amazing flower heads.
Sowing Advice
Sow seeds IMMEDIATELY you receive them, at any time of the year, they depend on having several months, sometimes up to a year in cold, damp compost, (NOT DRY IN A FRIDGE) before they will germinate. Keep the seed tray moist in a cold greenhouse or shady corner and do not discard. These fresh seeds can be very slow to germinate but do not use any artificial heat in an attempt to germinate them as it may simply disrupt their germination mechanism causing them to enter even deeper dormancy.
Key Facts
Classification:Hardy biennial