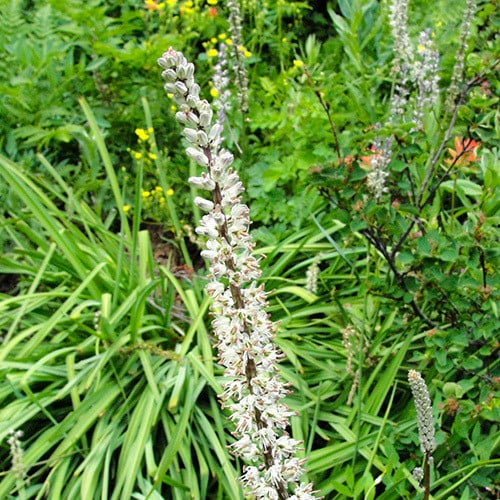 HASTINGSIA ALBA
Description
Tall, strong stems hold inflorescence of many flowers, with smaller inflorescences branching off lower levels of the stem, each flower being cream or greenish-white with six curly, lily-like tepals. Each blossom has six white stamens with large brown anthers, and when the flowers fall away, they leave the fruits, which are green capsules containing black seeds. Rare and little known, even in the wet boggy places it inhabits in its northern California and southern Oregon home, this fascinating plant will baffle even the keenest plantsman or plantswoman. With a pale and unassuming beauty, it is often searched for by the botanical equivalents of ornithological "Twitchers"! And finally, it is a major attractant for all pollinating insects.
Sowing Advice
Sow seeds at any time covering them with compost or grit 5mm deep, keeping the seed pot in a cool, well-lit spot outdoors. Artificial heat is not needed and can prevent germination so be very patient as many species will only germinate in the spring after chilling or freezing in the moist seed tray in the winter. Grow on individual seedlings in small pots until of sufficient size to be potted on or planted out into the open ground. Mature plants may prefer wet, or even waterlogged soil.
Key Facts
Common name:White rushlily and White schoenolirion.
Classification:Hardy perennial
Packet Content:12 seeds (Approx)