WEBSITE UPDATE
Our website is currently OPEN and accepting orders for delivery to the UNITED KINGDOM only.
Sorry for any inconvenience and we hope to re-open the website for GLOBAL delivery very soon.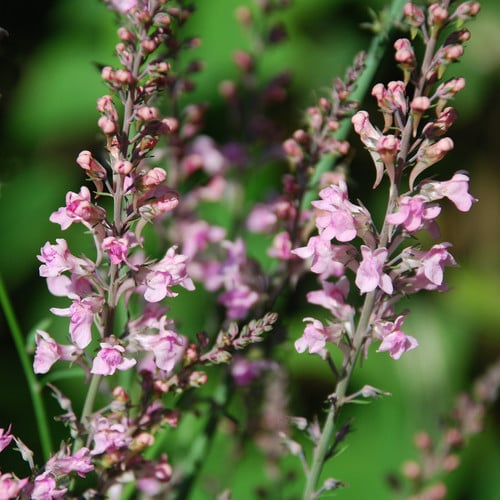 LINARIA PURPUREA ROSEA 'CANON WENT'
Description
A delightful variant bearing masses of small pink & mauve snapdragon-like blooms upon upright, slender, pointy spikes, a foot & a half to two feet tall. It is in bloom from June until the first frost, the blossoms being favourites of bees & butterflies. It remains upright and doesn't require staking and self seeds, but not to excess, coming true if other purpurea varieties are not grown nearby. 'Canon J. Went' will certainly self-seed & pop up in unexpected places in years to follow, even from out of cracks. It is extremely easy to grow in a wide range of situations, but will do best in full sun in well-draining soil. It is quite drought hardy & demands no special attention.
Sowing Advice
Seeds can be sown at any time but are best sown in winter or early spring to benefit from a cold spell in the wet compost to break their dormancy. We advise covering seeds very thinly with sand or fine grit to about the depth of the seed size. If the seeds do not come up within 6 to 12 weeks the damp seed tray can be given cold treatment in a fridge for about four weeks. They may still take very many months to appear, so please never discard the pot or tray.
Key Facts
Common name:Linaria purpurea pink form. Pink toadflax
Classification:Hardy perennial