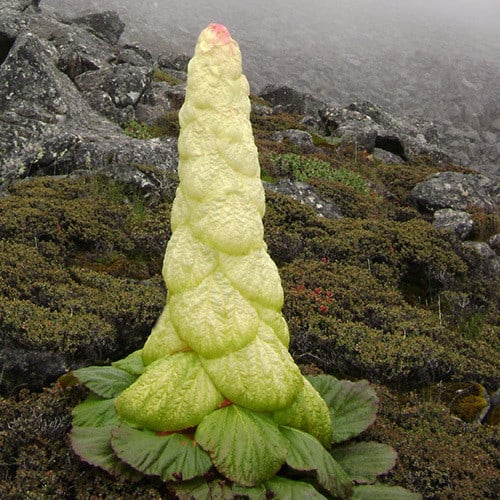 RHEUM NOBILE
Description
This legendary and quite fabulous giant herbaceous plant erupts with an amazing tapering spire of bright, creamy coloured bracts which are held on strong tall stems. These extend out even further as soon as the seed ripens. The equally attractive pleated basal leaves make a low protective skirt, and are rich green and almost rounded with deep veining. It grows in the wild high on the mountains in the Himalaya, northeastern Afghanistan, northern Pakistan, India, Sikkim, Bhutan and Nepal. This is one of the world's most desirable plants and although a slow grower is worth the wait so please be patient!
Sowing Advice
Seeds can be sown at any time but are best sown in winter or early spring to benefit from a cold spell in the wet compost to break their dormancy. We advise covering seeds very thinly with sand or fine grit to about the depth of the seed size. If the seeds do not come up within 6 to 12 weeks the damp seed tray can be given cold treatment in a fridge for about four weeks. They may still take very many months to appear, so please never discard the pot or tray.
Key Facts
Common name:Noble rhubarb, Sikkim rhubarb.
Classification:Hardy perennial
Packet Content:6 (Approx)