COVID-19 UPDATE
Our website is currently OPEN and accepting orders.
Thank you for your understanding in these difficult times.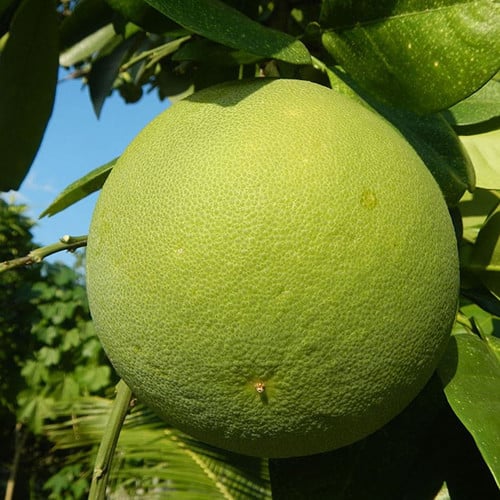 POMELO
Description
Usually a pale green to yellow when ripe, this amazing fruit is much larger than a grapefruit, with sweet flesh and thick spongy rind. By far the largest citrus in the world, the pummelo can reach 12" in diameter. Similar in appearance to a large grapefruit, it is native to South and Southeast Asia and is a natural citrus fruit, not a hybrid, and is indeed one of the original citrus species from which the rest of cultivated citrus were produced by hybridisation. The pummelo tree itself bears most attractive white flowers and generally has a somewhat crooked trunk and low, irregular branches. Botanists amongst you may be interested in its large number of names worldwide which are appended below...... Chinese grapefruit, Assamese: ৰবাব টেঙা robab tenga • Bengali: বাতাবি লেবু batabi lebu, ছোলঙ্গ cholanga, জাম্বুরা লেবু jambura lebu • Gujarati: પપનસ papanas • Hindi: बतावीनीम्बू batawi-nimbu, चकोतरा Chakotara, पपरमास papar-mas • Kannada: ಚಕೋತ ಹಣ್ಣು cakota hannu • Konkani: तॉरंद toranda • Malayalam: കമ്പിളിനാരങ്ങ kampilinaranna • Manipuri: ꯅꯣꯕꯥꯕ নোবাব Nobab • Marathi: बंपारा bampara, चकोत्रा cakotra, पपन्नस papannasa • Mizo: kamalo • Oriya: ବାତାପି batapi • Sanskrit: करुण karuna, मल्लिकापुष्प mallikapuspa • Tamil: மெதுக்கு metukku, பம்பளிமாசு pampalimacu, பொம்மாசு pommacu • Telugu: పంపరపనస pamparapanasa • Urdu: چکوتره Chakotara
Sowing Advice
These seeds have already been thoroughly cleaned and should be sown into a well-drained, sandy compost at any time of the year, and covered thinly with sand or grit and kept moist. Keep at between 20-25 degrees C. Seeds sometimes germinate within 4 to 6 weeks although some may take very much longer so please be patient. Plant out in the open ground in warmer countries or in a large container elsewhere.
Key Facts
Common name:Citrus maxima, Citrus grandis, Pummelo, Shaddock, Citrus costata, Pompelmous.
Classification:Hardy tree
Packet Content:10 (Approx)