WEBSITE UPDATE
Our website is currently OPEN and accepting orders for delivery to the UNITED KINGDOM only.
Sorry for any inconvenience and we hope to re-open the website for GLOBAL delivery very soon.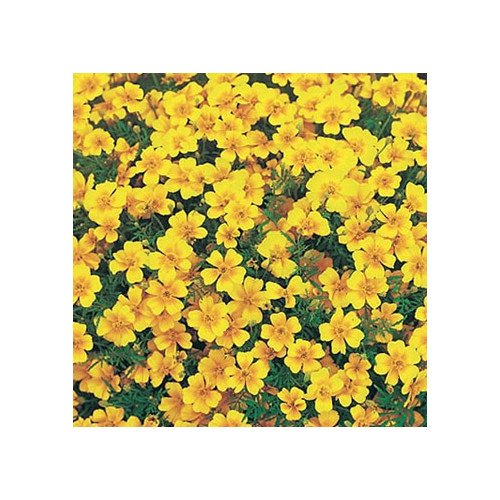 TAGETES GROUND CONTROL
Description
This is one of the most popular massed-colour plants, producing dazzling sheets of bright gold, single flowers over a long season. Additionally, nematodes are one of the most serious of all soil pests, often destroying whole crops. Based on Dutch research, this amazing plant also has the most potent nematicidal effect of all marigolds. Nematodes (Pratylenchus penetrans, P. neglectus, P. crenatus) have serious negative effect on crops of carrots, lettuce, endive, leek and strawberries. Also flower bulbs such as liliums, daffodils, gladioli, hyacinths, irises and tulips can suffer problems of root nematodes. Companion planting tagetes 'Ground Control', which grows particularly well on sandy soil where nematodes are most prevalent, will give you the double advantage of both a beautiful garden and pest-free soil.
Sowing Advice
Sow March to April. Germinate at 20-30C in a propagator Cover seeds thinly. Germination usually takes 7-14 days. Do not exclude light at any stage. Transplant seedlings when large enough to handle into 3in pots. Grow on in cooler, well lit conditions for 10-15 days before planting out 12in apart after all risk of frost. Seeds may also be broadcast where needed in the garden in early spring.
Key Facts
Classification:Half hardy annual
Seeds / gram:500 (Approx)