COVID-19 UPDATE
Our website is currently OPEN and accepting orders.
Thank you for your understanding in these difficult times.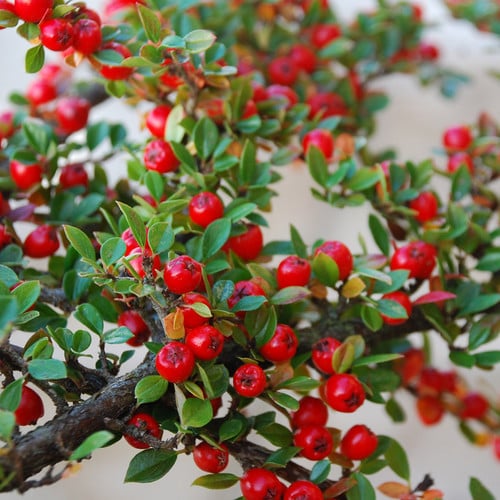 COTONEASTER HORIZONTALIS
Description
This shrub is almost flawless with something to offer in every season. Long leading horizontal branches sweep out gracefully in a strict herring-bone pattern. In late spring hundreds of pink-tinged white flowers appear, a honey pot for bees. The berries soon ripen to a rich red in late summer and punctuate the length of each herring-bone branch but do not become an important food source for birds until mid-winter. When the leaves colour in November, they gradually attain the same brightness as the berries, but in different, clashing shades of red and pink.
Sowing Advice
These seeds have already been thoroughly cleaned and cold-stored for several months. They should be sown into well-drained, sandy compost at any time of the year, and covered to their own depth with sand or grit. No artificial heat is needed; the seed tray is best left in a cool spot outside and kept moist. Seeds germinate very slowly indeed in the spring after a chilling in the cold compost, regardless of when they are sown. Some seeds may take more than a year to germinate.
Key Facts
Common name:Rockspray cotoneaster
Classification:Half hardy shrub